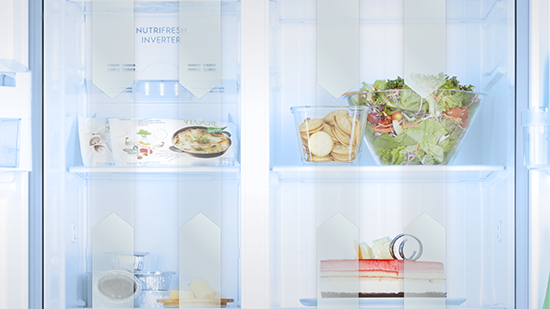 Stable temperature. Fresher Food.
360 Cooling circulates air throughout the entire fridge for a constant temperature. Every shelf is cooled individually, and food is properly preserved no matter where you store it.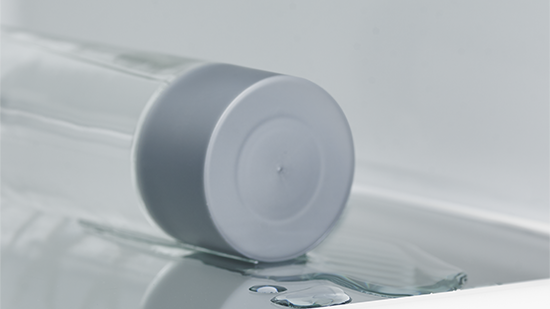 Effortless cleaning in mind.
Spillsafe glass shelves provide a great look with convenience and easy cleaning in mind. Toughened glass shelving isolates leaks and prevents spills from dripping.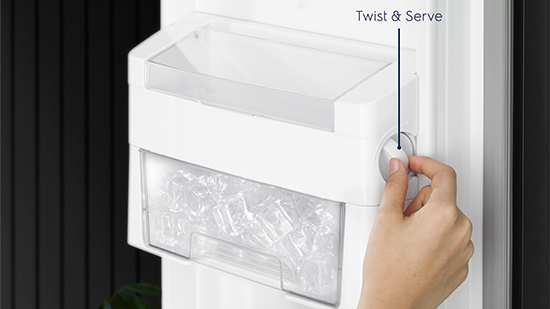 Ice making quick and easy.
The Twist and Serve Ice maker empties the ice tray with a simple twist of a knob for a quick and easy way of making ice.
Features
Tech specification
Key Specification
Size
1821 mm (H)
923 mm (W)
706 mm (D)
Gross fridge (L)
Gross freezer (L)
Gross total (L)
Size & Capacity
Net fridge (L)365
Net freezer (L)197
Net total (L)562
Net weight (kg)116
Capacity
Gross fridge (L)375
Gross freezer (L)261
Gross total (L)636
Product Profile
ProductSide by Side Refrigerator
ConstructionFree Standing
CompressorInverter
Control typeElectronic
Door colourBlack Glass
Door handleIntegrated
Ice makerTwist & Serve
Egg trayYes
Dimensions
Height1821 mm
Width923 mm
Depth706 mm
Design
ColourBlack
Door alarmYes
MaterialSpill-proof Glass Shelves
Electrical and Energy
Voltage (V)230-240
Frequency (Hz)50
Total annual energy consumption (kWh/year)489
Noise equal or less than (dB)42
ELECTROLUX Side By Side Fridge (636L) ESE6201BG
Brand: ELECTROLUX
Product Code: ESE6201BG
Availability: In Stock
RM5,209.00

RM4,175.00

QR Code
Related Products
Tags: Electrolux, Side By Side, ESE6201BG, Fridge